This model conceptualizes how we deliver care at Cove. It is envisaged that young people's needs can be divided into the broad headings of their Safeguarding, Health and Success, and skilled Cove key workers, under the supervision of qualified mental health or therapeutic professionals, will assess these needs and devise specific care plans in each area.
This 'Therapeutic Spectrum' is applied to each care plan to establish the level of young person functioning – and therefore the level of staff care and support – that is needed for each of these care plans. For some young people, especially when they are first admitted to a Cove placement, the primary therapeutic goal might be that of maintaining their safety. Levels of staff intervention at this stage will be focused on more short-term approaches, where the young person requires higher levels of staff care and support to help them maintain their own safety of that of others. As this therapeutic goal is achieved, the young person moves 'rightwards' along the therapeutic spectrum, through the therapeutic goals of 'Recovery', 'Growth' and ultimately 'Achievement', with more and more autonomy and independence, and a much greater emphasis on the longer term, being incorporated into their care plans.
The level and nature of formal therapy will also be informed by the therapeutic goal that the young person is currently at. Psychotherapeutic assessment, brief, supportive and problem-focused work will be delivered at the safety / recovery stages; while more exploratory work, which might include dynamic, Cognitive-Behavioral Therapy or work with a trauma-focus, will be delivered when the young person has successfully built up their resilience levels successfully through the Safety and Recovery stages and are in Growth and Achievement, and able to cope psychologically with such work.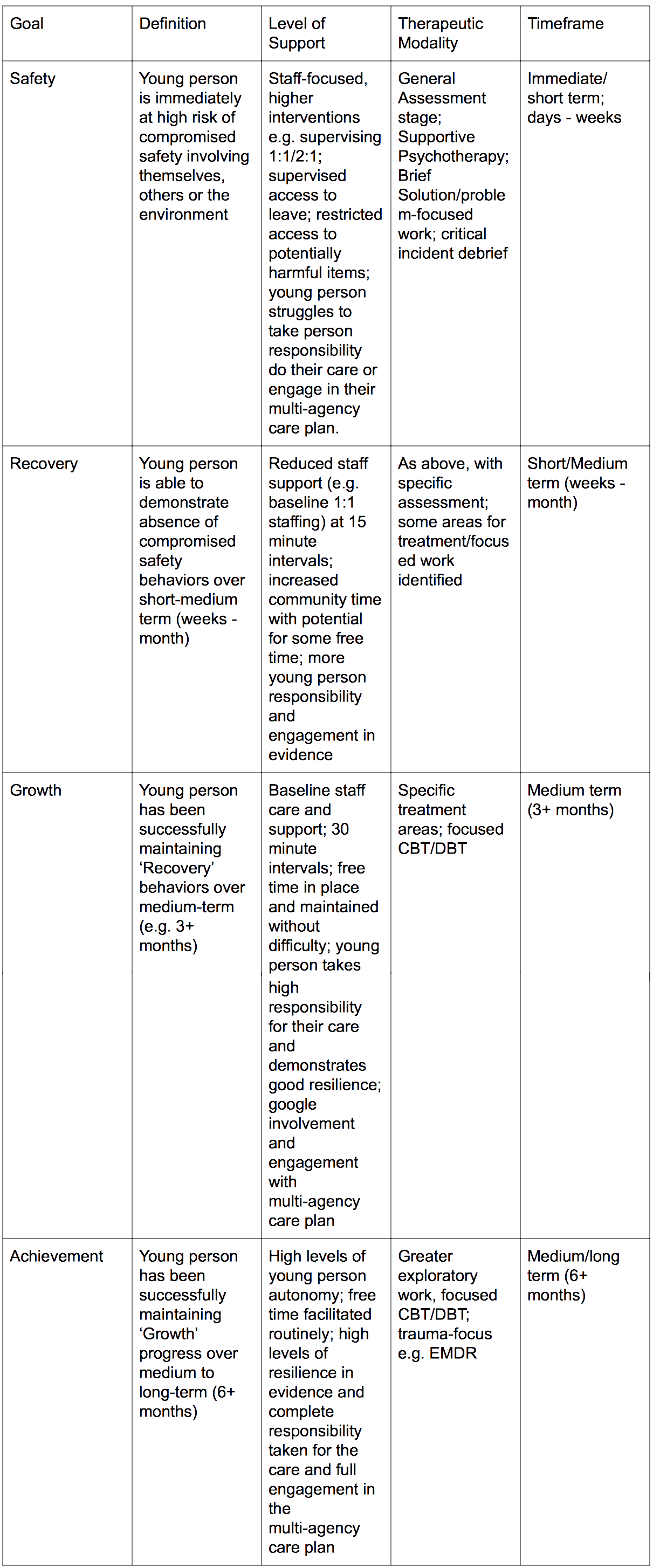 Residential Support Worker
Residential Support Workers are responsible for supporting other members of staff in the provision of care for young people; ensuring young people retain as much of their dignity and individuality as possible as well as being involved in the general activities of the placement.
Team Leader
The Team Leader will also be responsible for supporting other members of the team in the provision of care for young people, ensuring that they retain as much of their dignity and individuality as possible. This position will also be given additional responsibility to lead general activities of the placement to support the Home Manager.
Deputy Manager
The Deputy Manager will be responsible for the management and supervision of both the Team Leaders and the Residential Support Worker team, working closely with the Registered Manager who will be on hand to offer support and supervision.
Registered Manager
The Registered Manager will be accountable for the provisions of each resident's overall care, working in accordance with their agreed objectives, standards, policies and procedures to implementing and oversee their overall care plan. They will also have full responsibility for the day to day running of the home and supervision of the team.